Is Your Home Insured for Flood Loss?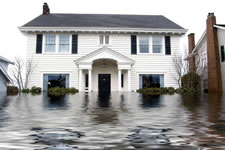 If there were a flood today, would you be protected? Making sure you have adequate coverage in place now can save you time and money from the most catastrophic natural events in the U.S. Remember, anywhere it rains, it can flood.
Just a few inches of water can cause hundreds and thousands of dollars in damage. Over the past 10 years, the average flood claim has amounted to over $33,000 the National Flood Insurance Program (NFIP) reported. Typically there is a 30-day waiting period - from the date of purchase- before the new NFIP policy goes into effect, for it's important to act now, before the water rises.
Homeowners Policy Is Not Always Enough
Most people don't realize their home insurance policy doesn't cover damages from flooding. The good news, the NFIP provides coverage to its policyholders for up to $250,000 for the structure of the home and up to $100,000 for personal possessions. Homeowners living in a designated flood area should consider additional insurance protection, known as excess coverage, over and above the basic policy or for people whose communities don't participate in the NFIP.