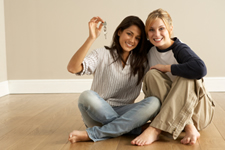 Moving generally indicates an exciting time of transition and life change - whether it's moving from the parents' basement to a first apartment or parents downsizing because the kids have all moved out. Whether you're handling the move yourself with the help of friends and family or whether you hire professional movers, moving can be as stressful as it is exciting, and one way to relieve some of that stress is knowing that your possessions are protected during the transition. Whether your move is across the street or across the country it's important that you discuss your move with one of our insurance agents.
Insuring Your New Place (And Your Stuff)
First of all, your belongings are protected by your home insurance or renters insurance policy against damage and loss. But it's important to know that when you move from an apartment to a house or house to house or apartment to apartment or condo to... well, you get the idea. Your homeowners or renters insurance won't follow you and your property to the new place. Moving to a new home means that the risks to your property change, and as your risks change, so should your insurance.
Since you have coverage for the contents of your home under a standard homeowners or renter's insurance policy, the best option to protect those is to make sure that there is no gap of time between the expiration or cancellation of your policy on the home you're moving out of and the effective start date for the policy for the home you're moving into- one way to do this is to have the new policy start the day you are planning on moving. Not only would this help provide coverage for your contents, but it would also provide you with personal liability coverage during the time of the move.
If you're moving out of state, let us know, as we may be licensed in the state you'll be moving to, and if they aren't, ask us to refer you to another agency in your new hometown.
Protect Your Stuff During the Move
Now what about your contents in transit? If you're renting a truck or a van for the move, the rental company may offer you additional insurance coverage. If you use a professional moving company, under federal law interstate movers are liable for the replacement value of lost or damaged items, so if you're moving from Manhattan, KS to New York City, the moving company is liable for your stuff. However, they may present you with different options for coverage, including Full Value or Released Value.
According to the US Department of Transportation, Full Value is more comprehensive coverage but it may cost more out of pocket, whereas Released Value is offered at no additional cost, but may only cover your belongings up to 60 cents on the dollar.
If you opt for the Full Value, make sure you have an up-to-date estimated value for the belongings you'll be moving. If you have an accurate and comprehensive home inventory, this shouldn't be too difficult of a task.
One argument for taking the coverage from a rental company or a moving company (even for in state moves) is that if something does go wrong and can be covered by that policy you could avoid filing a claim with your own homeowners/renters insurance company and having to cover costs out of pocket to meet your deductible. Just be sure though that the coverage offered by a moving or rental company is enough to replace or repair damaged or lost items. Talk with your us about your coverage and deductible so you can figure out a plan to protect your belongings that works for you.
What If I'm Putting Some of My Stuff in Storage?
If you'll be temporarily storing property at a storage unit during your move, you should know that some insurance policies will only insure items in a self-storage facility to 10% of your personal property limit, which may not be adequate to cover your stored furniture, rugs, etc. You should be able to raise that coverage with what's known as an endorsement to the policy, so make sure you tell us if you're storing anything at a self-storage facility as part of the move.
We have the ability to work with multiple insurance companies, so we can work to help you find the coverage that's right for your new place and for getting you and your stuff there.
Content courtesy of Trusted Choice