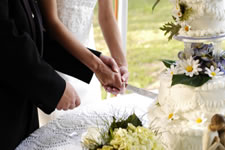 February - the month of romance, Valentines Day, and National Wedding Month, according to the Association of Bridal Consultants.
There are more couples who get engaged during this time of year, as well as the highest number of bridal shows. So while it's not a popular time to be actually getting married, lots of planning starts this month!
For any of our customers that get engaged this month, congratulations! We hope you enjoy sharing the news with friends and family and planning out your life together. While most people don't think to invite their insurance agent to their wedding, we do recommend that you keep us in the loop on your plans so that we can provide some insurance advice as it relates to the wedding and that rock you're now wearing (or paying for).
Insuring Your Engagement Ring
Some home insurance policies have a cap on the value for certain categories of personal property, like jewelry. Even if your policy includes a large total for personal property coverage on your home insurance policy, you might still be limited to only $2,000 for jewelry. Depending on the cost of your ring, combined with the other jewelry included on your policy, you may need to look to extra coverage to cover the new ring.
You may also be limited by the cause of the loss for something like a diamond ring. For example, some home insurance polices only cover your jewelry from fire or flood, but not if your three year old nephew flushes your ring down the toilet. Check with us to confirm what is covered and what's not. If needed, we can offer a "Valuables Item" supplement to your policy to be sure you're adequately insured.
Insuring Your Wedding
Not many people know that you can actually get insurance for your wedding. For relatively little cost, most wedding insurance policies cover things like:
Loss of your deposit and incurred expenses due to a canceled event due to bad weather
Wedding gifts
Photographs and videography
Special wedding-day jewelry
Liability coverage
Liquor liability
Some other big ticket items and expenses related to a wedding
Call us to chat about Wedding Insurance and insuring your engagement ring – we'll be happy to discuss options, premiums, and coverage to best fit your needs and your new life together!