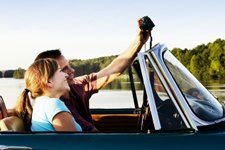 Properly insuring a rental car doesn't have to be confusing or frustrating. Here are some tips to prevent costly mistakes like having dangerous gaps in coverage, purchasing unnecessary coverage or paying for extras you don't need. It's important to know your options before you get to the rental car counter.
Do your homework. The goal is not to pay for insurance you already have. So before you hit the rental desk, contact us to find out what coverage your current auto insurance policy provides. It's worth mentioning that some credit card companies may provide coverage to the cardholder with no additional cost. Call and check first, but note that if your credit card company does offer coverage, it's usually limited. However, it may be enough to avoid having to purchase additional rental insurance from the rental car company.
Who covers what. Depending on what kind of auto insurance policy you have, that policy may cover rental-car damage. It is always a good idea to have comprehensive or collision coverage on your car. In the event your rental car is stolen or damaged in an accident, you'll be covered. If you do have credit card benefits, most credit card companies only supplement your auto insurance policy. Keep in mind, credit card protection doesn't include liability. Liability can only be covered by your personal auto insurance policy.
Diminution in value. More often than not, rental companies will charge you for the reduction in a vehicle's market value due to its having been in an accident. Diminuation in value is seldom, if ever, covered by your auto insurance policy. Your auto policy would likely cover most of the repairs but that is the extent of it.
You may not need extra insurance. The rental company will offer you a loss damage waiver (also called a collision damage waiver), which can cost $10 to $20 per day. The LDW (or CDW), protects you if the rental car is damaged or stolen. However, as long as he rental is for personal use and you have collision coverage, your personal auto insurance policy will cover the rental (with the same deductibles that apply to your own car).
You'll have to pay more for your kids to drive. Or yourself, if you're under 25. Age is not an advantage for rental car drivers. There is usually a daily fee assessed for putting a young driver (under 25) on the registration, whether or not they actually do all of the driving.
You'll have to pay for extra drivers. Think carefully about how many drivers you actually need. Even if all your drivers are over the age of 25, you are still likely to pay a fee for each additional driver registered when you rent the car.
Stay on paved roads. It's easy to miss some of the details rattled off when the rental car representative walks you through the company policies. That's why we're telling you, most rental car companies prohibit the use of their cars on unpaved roads. If you do purchase a loss damage waiver, or other rental car insurance, it will most likely be voided when you drive the car on gravel or unpaved roads. So unless you are looking for a costly off-road adventure, stick to the beaten track!
It gets complicated overseas. Generally, your auto insurance policy does not cover you when you rent a car abroad, although some polices may apply when you drive in Canada and Mexico. Also, most credit card companies withhold coverage in other countries with lousy ancient roads.
Gas up on your own. Most rental car companies stipulate that you return the car with a full tank, and if you don't, you'll get charged for the gas you didn't put in the car at rental car rates. And rental car companies often charge significantly more for gas than local gas rates. Ouch!
Bring your own extras. It's the little things in life that count, but they can also add up! Avoid rental car company fees for things like a child seat or a GPS system. Whenever possible, pack your own traveling extras and be sure to have the rental company remove theirs - from the car and your bill - before you drive off the lot.
Still not sure if you need separate rental car insurance? Contact Bibby Brilling today!