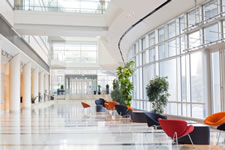 Winter brings the threat of freezing temperatures and harsh conditions to much of the U.S. Some places are well beyond the threat; it's going to freeze—there's no way around it. Such conditions pose unique hazards to commercial building owners. Following is some information on common winter threats and how they are addressed by commercial property insurance.
Freezing or Bursting Pipes
One of the most common causes of damage to commercial buildings during the colder months is freezing and bursting pipes. As a building owner, there are measures you can take to prevent pipes from freezing; however, sometimes the worst happens anyway. If it does, the result can be thousands of dollars of damage to your building, furniture, electronics, and other business property.
If this happens, will your commercial property insurance pay? The answer is "it depends." The property policy is not a maintenance contract, and the insurance company expects you to take every precaution to ensure that pipes don't freeze. If there is an insurance claim, the adjuster will determine if the measures taken were adequate. Specifically, the adjuster will look for evidence of two efforts: First, did you leave the heat to the building running; and, second, did you drain the lines? If you can prove at least one of these steps was taken, most policies will pay the resulting damage.
That's certainly good news. But wouldn't you rather avoid the claims process altogether and keep your deductible in your pocket? Following are a few tips on protecting the pipes in your building from winter's worst.
Locate the turnoff valve and drain the lines.
Protect spigots with Styrofoam attachments. These can be purchased at most home improvements stores and offer much better insulation than wrapping the spigot with a towel.
Search for pipes that are not insulated. These pipes may pass through unheated areas, such as crawlspaces, basements or garages. Pre-molded foam rubber sleeves can be fitted to the pipe and offer essential insulation to keep them from freezing. Fiberglass insulation is also an option. You may also consider wrapping the pipe with heating tape.
Winter Runoff
As winter begins to recede, the risk of damage from freezing pipes fades with it. However, melting snow and ice bring a new concern for building owners—flood damage to property resulting from the runoff of the melt. In many areas of the country, snowmelt is a greater threat for flooding than any other source. The bad news is that flood resulting from melting snow and ice is still considered a flood and, therefore, is not covered by standard commercial property insurance.
Coverage for this type of loss can be found only through a flood insurance policy. Currently, the National Flood Insurance Program (NFIP) allows owners of commercial buildings to purchase up to $500,000 in flood coverage for damage to the building caused by flood and up to $500,000 in coverage for damage to the building contents. If these limits aren't sufficient to cover the risk of damage to your building, consider purchasing an excess flood insurance policy. This policy allows for the purchase of limits to cover flood damage up to a dollar amount specified by the insurance company.
Damage from Ice, Sleet or Snow
Ice, sleet and snow can be incredibly destructive to your property. They can be the source of damage or amplify existing damage—for example, ice getting into a crack in a wall. Unfortunately, damage caused by ice, snow and sleet are not covered by most standard commercial property insurance policies. While some policies will cover damage resulting from the abrupt collapse of a building's roof under the weight of ice, snow or sleet, others will not.
Protecting your building from harsh winter conditions takes a great deal of care. So does making sure your insurance responds if it turns out Old Man Winter packed a little more punch than you bargained for. For help in determining if your policy covers the winter damage you might experience, give your Trusted Choice® independent insurance agent a call.
Content courtesy of Trusted Choice