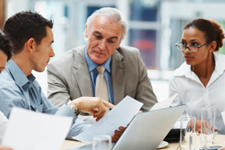 Some small business executives believe that Directors and Officers Liablity Insurance, called D&O for short, is only for publicly traded companies. The truth is, a business of any size will usually have officers and possibly directors who can be targeted by litigations over their management of company affairs.
Personal Assets Are At Stake
D&O liability coverage helps protect the personal assets of your directors and officers from litigation due to alleged mismanagement of the company. It provides cash to pay for the attorneys defending them, regardless if they were negligent. It may even provide some defense of directors and officers accused of legal violations. It can also be extended to cover the company itself it its brought into a lawsuit against its directors and officers.
Think Beyond Errors and Omissions Liability
While Errors and Omissions Liability protects your products and services from alleged performance issues or neglegence, it does not protect the performance and duties of management. Its become increasingly common for newly appointed directors or newly hired officers to demand D&O coverage as a condition of serving or employment. Sometimes, outside investors will require a D&O policy before providing funding to your business -- they often see coverage as a way to protect their investment.
When do I need Directors & Officers Insurance?
You need Directors and Officers Liability insurance when you assemble a board of directors. They will frequently make the requirement.
Investors, especially Venture Capitalists, will also usually require that you show evidence of Directors and Officers Liability insurance as a part of the conditions of funding your company.
Also having employees opens management up to employment practices lawsuits - which can be covered under D & O insurance.
Why do I need Directors and Officers Liability Insurance?
First, you need Directors and Officers Insurance because claims from stockholders, employees, and clients will be made against a company, AND against the directors of the company. Since a director can be held personally responsible for acts of the company, most directors and officers will demand to be protected rather than put their personal assets at stake.
Secondly, you need Directors and Officers Insurance because : Investors and members of your board of directors will not be willing to risk their personal assets to serve as corporate director or officer, no matter how heartfelt their belief in your company.
Lastly, employment practices suits constitute the single largest area of claim activity under D &O polices. Over 50% of D&O claims are employment related.
Contact Us
We're here to help. Contact us today for answers to your questions and a free commercial liability quote.
Content provided by Trusted Choice