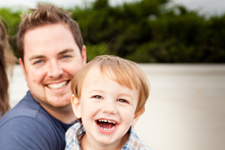 Traditionally symbolized by neckties and backyard cookouts, each year every third Sunday in June we celebrate our dads and the father figures in our lives.
To honor all of you Texas dads out there, we've put together some fun facts about the day!
Father's Day Fun Facts
According to the U.S. Census Bureau, the necktie is the most popular of all Father's Day gifts.
The origin of the word dad may simply be baby talk - "The forms dada meaning 'Father'...originating in infantile or childish speech", says the Oxford English Dictionary.
There are 1.5 billion fathers worldwide. 66.3 million of those father's are in the United States.
Father's Day is the fifth-largest card-sending occasion in America with almost 100 million Father's Day cards sent each year.
Only 50% of all Father's Day cards are purchased for dads. Nearly 15% of Father's Day cards are purchased for husbands. Other categories include grandfathers, sons, brothers, and uncles.
The Father's Day card business will ring up about $780 million this year.
According to National Geographic, Father's Day costs less than Mother's Day - with individual consumers spending $94.54 and $138.36 respectively.
Famously Mark Twain said the following about his father: "When I was a boy of fourteen, my father was so ignorant I could hardly stand to have the old man around. But when I got to be twenty-one, I was astonished at how much he had learned in seven years".
The idea of Father's Day was conceived by Sonora Smart-Dodd who wanted a special day to honor her father, William Smart, a widowed Civil War veteran, left to raise six children on his own.
It wasn't until 1972 that Father's Day was officially made a U.S. holiday, when President Richard Nixon helped set aside the third Sunday in June for dads.
Happy Father's Day from all of us at Bibby Brilling!