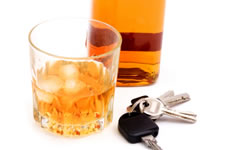 Labor Day marks the end of summer and is often a time of barbeques and parties, but it can also be a deadly time for drunk driving. That is why party hosts should protect themselves by making sure they have the proper insurance coverage and taking steps to ensure the safety of their guests.
According the Insurance Information Institute (I.I.I.) several states have passed laws called "Dram Shop Liability". These laws make it possible to hold those who serve alcohol to an intoxicated or under age customer responsible for damage or injury. These laws also offer an injured person, such as the victim pf a drunk driver, a method to sue the person who served the alcohol. Some of these laws include circumstances where criminal charges may also apply.
Originally, the Dram Shop Liability laws were intended to apply to taverns, bars, and other establishments selling and serving alcohol. The fact is however, "social hosts" (such as those holding a Labor Day party at home) also have some exposure to the risk of liability for alcohol serving.
In some states you can be held legally responsible for your guests' actions after they leave your party. So, if you're throwing a party where alcohol is served, you have a responsibility to make sure that your guests are capable of driving safely.
How to Protect Yourself and Your Assets
If you plan to host a Labor Day party and serve alcohol, the I.I.I. offers the following tips on how to have a safe and successful party:
Encourage guests to pick a designated driver who will refrain from drinking alcoholic beverages so that he or she can drive other guests home.
Consider hiring a professional bartender. Most bartenders are trained to recognize signs of intoxication and will limit consumption by partygoers.
Be a responsible host. Limit your own alcohol intake so that you will be better able to judge a person's sobriety.
Serve non-alcohol beverages and always serve food. It is proven that good can help counter the effects of alcohol.
Do not pressure guests to drink or rush to refill their glasses when empty. And never serve guests who are visibly intoxicated.
Stop serving liquor toward the end of the evening and switch to coffee, tea and soft drinks.
If guests drink too much or seem too tired to drive home, call a cab, arrange a ride with a sober guest or have them sleep at your home.
Encourage all your guests to wear seatbelts as they drive home. Studies show that seatbelts save lives.
Questions About Your Liability Coverage?
Make sure you are covered for liquor liability or other liability exposures specific to your Labor Day party. Contact us today!