Combined Agents of America Adds 45th Member Agency Bibby, Brilling & Associates.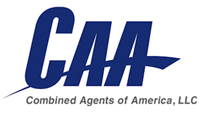 AUSTIN, Texas — Combined Agents of America, LLC (CAA) at its quarterly meeting August 18-19, Austin, Texas, announced its expansion into the Dallas, Texas region with its 45th member agency Bibby, Brilling & Associates, LLP. With expansion into Oklahoma and Kansas, Texas-based CAA is a managing general agency (MGA) committed to further expand across the southwest and central region of the country as it continues to strengthen the independent insurance agency system through profitable growth and exceptional service for its member agencies.
"CAA is thrilled to be moving into the Dallas area for the first time with its newest CAA member," said Michael J. Bosworth, CIC, CAA member, and president of Bosworth and Associates in Tyler, Texas. "Pete Bibby and I started out as young insurance agents together almost 30 years ago, and I am eager to join forces with him once more and the rest of the great team at Bibby, Brilling & Associates."
Based in Dallas, Texas, Bibby, Brilling & Associates (BBA) is a full service insurance agency that began in 2000 when two agencies -- Bibby Insurance Agency, established in 1955 and Abe I. Brilling Insurance Agency, established in 1933 -- joined forces. The agency is committed to establishing strong relationships with each of its clients based on mutual trust and service. BBA's second location, Arden Insurance Agency, is located in Ennis, Texas and was established in 1918.
"The well-respected agents that make up Combined Agents of America impressed us. Being the newest member of this prestigious organization allows our agency to provide more services to our clients, more opportunities to increase our bottom line, and more for our future," said Pete Bibby, new CAA member and limited partner of Bibby, Brilling & Associates. "We heard from CAA members and our insurance carriers that being apart of CAA is a win-win situation. We are thrilled to be on board."
CAA's member agencies convene on a quarterly basis to knowledge share, discuss industry issues, review its relationships with insurance carriers, and assess CAA operations. Highlights from the recent board meeting include:
Golf tournament at Falconhead Golf Club (Austin, Texas),
Insurance carrier presentations by Sunderland Group, Service Lloyds Insurance Company and McClelland & Hine, Inc.,
Guest speaker presentation by Scott Addis on "Organic Growth Engine,"
Sunderland hosts lunch at the Airport Hilton, Austin, Texas, and
McClelland & Hine hosts dinner at the Airport Hilton.
About Combined Agents of America, LLC
Founded in 1997 Combined Agents of America, LLC (CAA) is based in Austin, Texas, and is comprised of 45 independent insurance agencies located throughout Texas, Oklahoma and Kansas. By funneling the agencies' combined premiums, CAA brings larger volume commitments to insurance companies, while empowering its members to realize greater benefits from insurance companies, vendor discounts and other incentives. In 2009, CAA generated over $410,000,000 in combined property and casualty annual premiums, and works with 18 of the largest insurance companies in the nation. CAA placed 18th nationally in the Insurance Journal's Top 100 Property and Casualty Agencies in 2009. All CAA member agencies remain independent and are recognized by insurance companies as a key component to their future growth and goal commitments. Additional information is available at www.combinedagents.com.